Kayak Fishing Bass For Fun & Health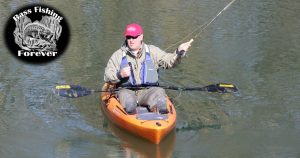 Kayak Bass Fishing is fun, good exercise, and gets very competitive.  Any type of Bass fishing is fun, but when you go in a kayak fishing you also get a very good workout. You will also be able to get into places that are rarely fished. Using a kayak fishing will get you into places even some Bass boats can't get into. Even the most shallow waters are not an obstacle when you go Kayak Fishing.  Sometimes you can find a spot that is just too shallow to get your conventional boat into that would lead you to other parts of that water that are basically cut-off from the main body. Getting through small channels to access an area that is rarely fished suddenly becomes available to you if you are Kayak Fishing. If you are a very competitive person, Kayak Bass Fishing in tournaments may be for you. And yes, there is money to be made Kayak Fishing. You can find the 2018 KBF Trail Series of tournaments by visiting their website here. The story below is from  wvgazettemail.com and they featured the favorite from W. Virginia for Kayak Bass Fishings Angler of the Year.
Kayak Bass Fishing Angler of the Year

Bluefields Jody Queen has finished the year tied for the top spot in Kayak Bass Fishings Angler of the Year standings. He could secure that honor with a solid performance in an upcoming tournament that features the organizations top 10 anglers.
Is it possible for a West Virginian to make a living from catching bass from a kayak?
Jody Queen intends to find out. Queen, who grew up in Wayne County and now lives in Bluefield, has spent the last year trying to answer that question.
So far, so good. He has won enough tournaments, and has placed highly enough in others, that he shares the No. 1 spot in Kayak Bass Fishings Angler of the Year rankings. On Jan. 19, he and nine other top-ranked anglers will travel to Bienville Plantation, Florida, to compete for the $10,000 top prize in a tournament known as The Ten. In late March, hell compete for $100,000 in the KBF National Championship tournament at Kentucky Lake.
See full story on wvgazettemail.com
Kayak Bass Fishing Videos
We found some good videos related to Kayak Bass Fishing and posted them below. This first video he fishes under a dock. Better watch your head if you try this.

This next video they use their Bass boat as a motherboat to get close to the area they are going to fish in their kayaks.

This last video is from Chad Hoover, a reel expert in Kayak Bass Fishing and he offers some great tips on how to catch Big Bass from a kayak, but many of these tips you can use fishing from anyplace.

Thanks for the visit, please share this on Facebook or Twitter so your friends can check it out as well.