Bass and Pike frozen in ice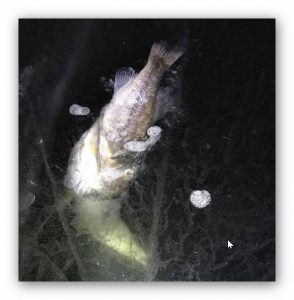 A Bass and Pike frozen in Ice is something not seen every day. This is something that is rarely ever seen. Two fish seemed to be locked in a battle and frozen in time. A Pike didn't get to finish its last supper (a Bass) before freezing and being locked in ice on the lake they were found in.
The picture above is linked to the original Facebook post, click it to visit.
Two brothers, Anton and Alex Babich, came across this rare find while ice fishing on Wawasee Lake close to Syracuse in northern Indiana. After they posted a photo of it on Facebook it went viral. The original picture was posted January 10th 2017, nearly a year ago. In that time it has garnered 4.8K reactions and nearly 16K shares.
Proof in the video
Some people may not have believed the brothers actually found the Pike and Bass frozen in what looks like an epic battle, so the brothers decided to go back to where they found it and get video of them cutting the Bass and Pike frozen in ice out with a chainsaw. You can watch that video below and they explain what happened. This is what a Bass and Pike frozen in ice looks like below.