How to become a Professional Bass Fishing?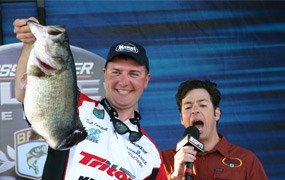 In my younger days the question for me was never how to become a professional Bass fishing, but growing up in the suburbs of Detroit Michigan, I had one of the best Smallmouth Bass fisheries in the world (Lake Saint Clair) only 15 minutes away. Despite living so close to Lake Saint Clair, and living within 30 minutes drive of dozens of other much smaller lakes, we rarely ever went Bass fishing. Walleye and Yellow Perch seemed to be most people's first choice. After all, they do taste much better than Bass and normally seem to be a little easier to catch. If you wanted to catch something really big, you would try to catch the Muskie or Sturgeon that make Lake Saint Clair their home. There is also no shortage of Northern Pike or Catfish there as well. I had the best lakes around me, but I rarely caught any Bass (Smallmouth or Largemouth). So how to become a professional Bass fishing never really entered my mind when I was younger.
[azon_inpost asin="B00BFP81JQ" tpl="tpl_4″]Deep Water Structure Fishing For Spotted Bass With Mack Farr[/azon_inpost]
It wasn't until I lived in Texas while I was in the Army, that I really started loving Bass fishing. Being stationed at Fort Hood, I had easy access to Belton Lake and Stillhouse Hollow Reservoir. Both are great fishing lakes and made it easy to fish through the winter without freezing my butt off. I started catching White Bass, Hybrid Bass, and Largemouth Bass. That's when my love affair with Bass started. I always loved catching any kind of fish before that time, but I really started to focus on Bass fishing.
I must admit, I am not a great Bass fisherman, but I am a huge fan of Bass fishing and that is why I started this website. I try to find interesting articles about fishing and share my love of Bass fishing with as many people as possible. Below are a few articles I found that may be of some interest to anybody who is thinking about becoming a Pro Bass Fisherman, and the difficulties associated with it. This is not meant to discourage anybody, it is a reality check that should be considered before dedicating your life to it. Everybody should follow their dreams, but how to become a Professional Bass Fishing isn't as easy as one might think. Here are some excerpts with links to the more qualified Bass fishermen's opinions on this subject.
From Manteca Bulletin
I recently overheard a few anglers talking about how making their hobby their job would be like not working at all. I used to think the same until I watched a very close friend of mine decided to make fishing his career. A job is a job; eventually, there are going to be days when you'd rather be somewhere else. Unless a person is truly fortunate to work for themselves and can pick and choose when they want to work, all jobs have their challenges. For professional anglers, driving around in an $80, 000-dollar boat that's being towed by a $70, 000 truck, there's a lot required from them.
See full story on  mantecabulletin.com
From Bassmaster.com
Actually, I will answer the question by the end of this article. How could anybody possibly be crazy enough to want to become an Elite Series bass fishing pro? How could you high school kids be wearing a Skeet Reese jersey with your sights set on being just like him in a few years?
See full story on bassmaster.com
Image courtesy of bassmaster.com
From FLWFishing.com
How do I get started in tournament fishing? This is one of the questions most frequently asked of professional anglers. The wording may differ here and there – What tips do you have for a beginner who wants to enter tournaments? How do I become a pro? What advice do you have for a 26-year-old co-angler who fishes the BFLs? etc. – but the question endures, generation after generation.While there may not be a one-size-fits-all answer, there is a common thread that runs through the advice pros give time and time again: Fish local tournaments as an amateur or co-angler, learn as much as you can from your pro partners, and then work your way up the tournament ladder.
See full story on flwfishing.com
10 Biggest Myths of Bass Fishing from Discover Boating. The more you know, the better you fish
The late Al Houser, former director of the Oklahoma Fisheries Research Lab, made a comment thats stuck in my head for 30 years. The problem isnt that anglers are ignorant, he lamented, its that they know so many things that just aint so.Every angler group has its widely held fallacies, perhaps none more than bass anglers. Thats perhaps surprising, given the volume of research directed at black bass.
See full story on discoverboating.com