Texas Rig Tricks
Everybody has their own way of doing things, and we just found a couple more at another great Bass Fishing website quoted below showing some Texas rig tricks: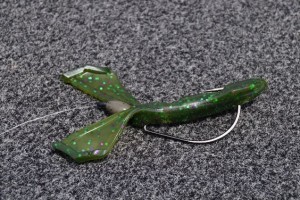 2 New Texas Rig Tricks
There have probably been more bass caught on a Texas-rigged plastic than any other presentation, and its for good reason – Texas-rigging allows anglers to effectively fish any cover, at any depth, under any conditions.
See full story on biospawn.com
Image courtesy of biospawn.com
How About The Reverse Texas Rig?
After reading about this method, my curiosity got me thinking (yes, that can be dangerous at times) that using the Reverse Texas Rig may also require a new retrieve. I would enjoy reading your opinion on this, you can comment below at the end of this post.
So you basically rig a plastic craw or lizard or whatever on the hook turned around so you are reeling it in backwards compared to a normal Texas Rig. I got that all right, now I can't stop thinking about how it should be retrieved!
The biggest advantage I can see by using their "Reverse Texas Rig" is the baits decent to the bottom. And as most people who love to go Bass fishing know, when the bait it sinking after the cast you may very well get a hit on the way down. Those hits can often be very difficult to detect right away, but I like that it requires some attention to be paid to your line as it sinks. If you get more hits on the decent, it will be worth sticking with for a little while. I have not tried the Reverse Texas Rig yet, but will do so the very next Bass fishing trip I make.
I must admit, I have never thought about texas rigging anything backwards. It should be fun learning how to maximize each cast.